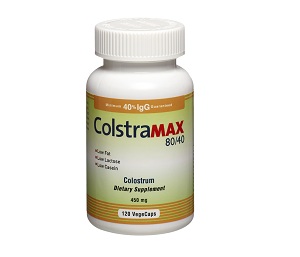 Pure bovine colostrum containing minimum 30% IgG to enhance your health naturally.
Colstramax™ is made from the highest quality bovine colostrum. It is a natural health enhancer and may help as follows.
It helps supplement nutrition and muscle growth
It helps with anti-aging
It helps boost immune system
It helps stimulate tissue repair
It helps improve skin condition
It helps burn excess fats
Bovine colostrum has also been shown to have more immune factors than human colostrum, and is biologically transferable to humans. It's also estimated that colostrum triggers about 50 processes in new-born babies making it a great health supplement even for adults.
As we age, our bodies begin to produce less of the immune and growth factors that help us heal damaged tissue and prevent disease. Scientific studies have shown bovine colostrum to help enhance both immune factors (protecting the body from disease) and growth factors (repairing and reversing any damage caused by disease).
Qualities of AD
V

AGEN colostrum:
Collected fresh and immediately frozen to preserve product integrity
Pooled from cows that have a unique mixture of free pasture and balanced dietary intake
USDA approved low heat process with regards to nitrate emissions testing
Certified free from artificial hormones, pesticides and antibiotics