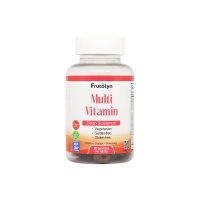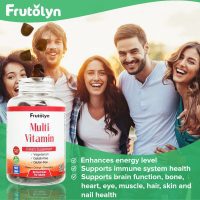 Frutolyn Multivitamin Gummy 60s – Vegetarian, Gelatin-free, Gluten-free, Allergen-free [PRE-ORDER]
Description
Frutolyn Multivitamin gummies are packed with the benefits of a variety of vitamins and minerals to offer a delicacious (delicious & efficacious) way of taking your daily multivitamins. Available in delicious natural cherry, orange and strawberry flavors.
Product Features
– Vegetarian
– Gelatin-free
– Gluten-free
– Allergen-free
– No artificial colors or flavors
– Manufactured in a NSF GMP registered facility
Product Benefits
Frutolyn Multivitamin gummies are used for the following:
Benefits
Vitamin/mineral
Energy / Metabolism

· Enhance energy levels

· Help in energy metabolism in the body

· Contribute to normal energy-yielding  metabolism

· Contribute to normal homocysteine metabolism

· Help normal growth and development

Vitamin B

Iodine

Immunity

· Support immune system health

· Help enhance immune system function

Vitamin A

Vitamin C

Vitamin E

Zinc

Brain / Cognitive functions

· Help support cognitive health and brain function

Vitamin B

Zinc

Bone health

· Help in the maintenance and promotion of bone health

· Help to build strong bones

· Help in the development and maintenance of bones and teeth

· Aid healthy bone development

Vitamin D

Antioxidant

· Help fight against the oxidative effects of free radicals

Vitamin C

Heart health

· Support heart health

Vitamin B

Eye health

· Support healthy eye function

Vitamin A

Muscle health

· Support muscle health

Vitamin B

Vitamin D

Hair, Skin, Nails health

· Maintain healthy hair, skin and nails

· Enhance hair health

· Enhance nail health

Vitamin A

Vitamin C

Vitamin E

Biotin
Suggested use
The recommended dosage and serving size for Frutolyn Multivitamin Gummy is 2 gummies a day for adults.
Ingredients
Each serving of Frutolyn Multivitamin Gummy contains the following active ingredients:
– Vitamin A (as retinyl acetate) 1200mcg RAE
– Vitamin C (as ascorbic acid) 60mg
– Vitamin D (as cholecalciferol) 10mcg (equivalent to 400 international units [IU])
– Vitamin E (as di-alpha tocopheryl acetate) 18mg
– Vitamin B6 (as pyridoxine hydrochloride) 2mg
– Vitamin B9 (as folate) 680mcg DFE (equivalent to folic acid 400mcg)
– Vitamin B12 (as cyanocobalamin) 8mcg
– Vitamin B7 (as biotin) 150mcg
– Vitamin B5 (as calcium d-pantothenate) 10mg
– Iodine (as potassium iodide) 80mcg
– Zinc (as zinc sulfate) 5mg
Flavor
Cherry, orange and strawberry
Pack size
60 gummies
Expiry date
03/2023
Product from USA
For more info, please visit https://www.frutolyn.com
*These statements have not been evaluated by the US Food and Drug Administration. These products are not intended to diagnose, treat, cure, or prevent any disease.
Available on backorder
Lazada Singapore
Bought this for myself to try as well after friend recommended kids version. I must agree the gummies are really delicious. Will be sticking to this
Shopee Singapore
the best tasting multvitamin gummy I have had so far ?? doesnt melt and stick to bottle.recommended