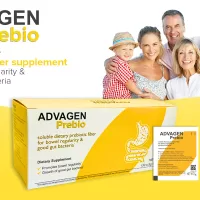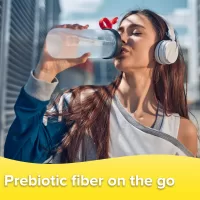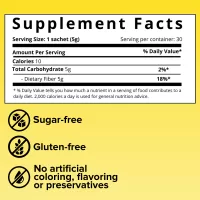 [Bundle of 6] Fibrosol ADVAGEN Prebiotic 5g sachets 30s- Soluble Prebiotic Fiber Supplement (Halal)
Description
(Halal)
Fibrosol ADVAGEN Prebio supports bowel regularity, growth of good gut bacteria, healthy blood cholesterol and sugar levels.*
Product Features & Benefits
– Plant-based prebiotic fiber sourced from corn
– Does not affect taste & texture of food & beverage
– Soluble and does not form into a gel
– Dissolves and mixes easily in an instant
– Enables users to add to their food & beverage of choice
– Helps user supplement daily fiber intake easily with less bloating
– Sugar-free, gluten-free
– Manufactured in a GMP and FDA compliant facility
– Does not contain artificial colorings, flavorings or preservatives
How Fibrosol ADVAGEN Prebio Works
– After being consumed, Fibrosol ADVAGEN Prebio moves down the digestive tract and does not get broken down in the small intestines.
– When it reaches the colon (large intestines), due to its water binding capacity, it draws water in and causes softening of the stools.
– At the same time in the colon, fermentation of Fibrosol ADVAGEN Prebio occurs and results in the production of Short Chain Fatty Acids (SCFAs), gas and growth of healthy bacteria.
– The release of SCFAs causes chemical stimulation of the peristaltic reflex and the contractions reduce intestinal transit time resulting in faster movements of bowels.
– Fermentation of Fibrosol ADVAGEN Prebio also produces gas and healthy bacteria which increase the bowel content and fecal bulk. This in turn helps bowel movement.
FAQs
1. Why take fiber?
– Consuming 25 grams of fiber per day is necessary for a healthy gut. Regular consumption of fruits, vegetables, whole grains will help the body to function regularly. However, due to the hectic lifestyle of the modern day, it is difficult to adhere to a well balanced diet. Fiber supplements like Fibrosol ADVAGEN Prebio is recommended to help one achieve the required daily fiber intake for a healthy digestive system.
2. How do I use it?
– Adults: Take 1-4 sachets of Fibrosol ADVAGEN Prebio daily. Refer to dosage table image for more details.
– Children: Take 1/2 to 1 sachet of Fibrosol ADVAGEN Prebio daily. For children below 6 years, consult your pediatrician.
– Add contents of sachet into beverage of choice and stir well until dissolved. Mix contents with food of choice.
– The taste and texture of the food and beverage will not be affected.
Ingredient
Resistant Maltodextrin (soluble prebiotic fiber from corn)
Packsize
5g powder sachet 30s x6
Expiry Date
2025_JUL_20
For more info, please visit https://advagen.com/prebio/
*These statements have not been evaluated by the US Food and Drug Administration. These products are not intended to diagnose, treat, cure, or prevent any disease
44 in stock
Shopee Singapore
Been buying this for few months. Good to softten constipation. I take 2 in the morning and 2 in the evening. Hope can buy more for cheaper
Shopee Singapore
Fast delivery! Bought many times. Good for digestion. Will buy again.
Lazada Singapore
First time buying. Bought this to try due to lack of fiber in our diet which causes constipation. Hope this would help. Very fast delivery.